Mom Barely Recognizes Her Punk Rock Daughter After Giving Her A Makeover!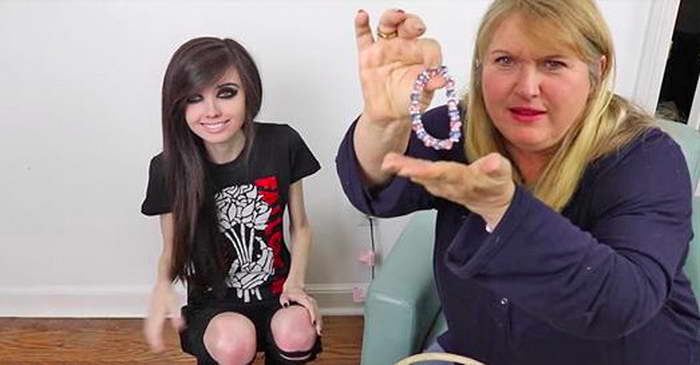 Every single individual, whether a male or a female, has his or her own unique style. But, sometimes this style turns out to be so outrageous that it invokes social disapproval. People become judgemental. Eugenia Clooney, along with her mother, teaches us a lesson to not be extremely judgemental and let people follow their own choices in this offbeat video. Looking for the first time, you might think that Eugenia, wearing fingerless gloves, heavy eyeliner and dark clothes has a tough time putting up with her peppy, gleeful, and a blonde haired mother. However, after looking at the video again, you will realize how much love, respect and affection they have for each other. In this video, you will witness Eugenia getting a pretty and lace faced Makeover from her mother she always dreamt of having, but just for fun! Eugenia literally turned her mother to a goth in the previous video. The mother and the daughter are not actually trying to completely change each other, as they don't judge each other's appearance, but see the purity and sanctity of each other's hearts. This is what makes them one of a kind. Eugenia's mother, having a big heart, accepts her quirky style.
However, it is fun to see a person in a completely unimaginable, totally different way! Mom excitedly seized the opportunity to clean the hard exterior of her daughter. Eugenia believes that her new look is rather embarrassing, but the mother-daughter duo have a lot of fun at this moment of bonding.
Eugenia dons a punk rock t-shirt, dark and winged liner and platform shoes instead of her usual casual blazer, soft eyeliner, and loafers. This shows that her image was completely metamorphosized.
Do share this if you believe that Eugenia and her mom have immense love and affection for each other.