15 Shoes Storage Ideas You'll Love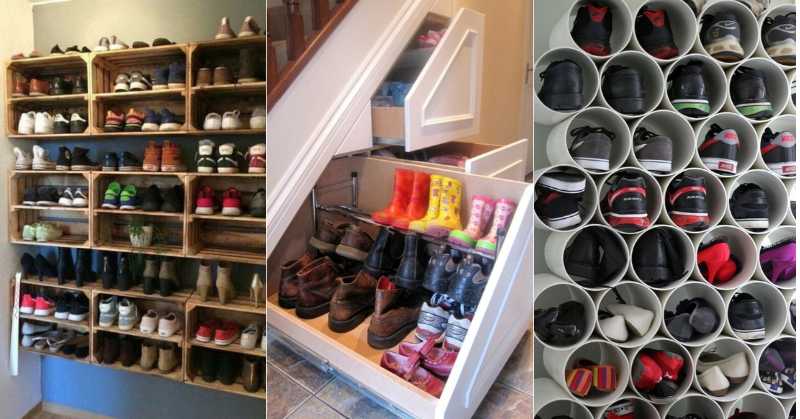 Untidiness at the door-step is a repulsive factor for guests when they enter your house. Imagine an array of footwear lying all over the main door, creating hindrance and obstructing the flow of positive energy according to Feng Shui. To balance your positive energy all over the house, we have come up with some modern day and artistic solutions to store away your footwear.
Does it make your space Not only tidy, but also effectively protect your vast collection of shoes from dust and unwanted stains. These storage cabinets could be built-in or made to order for perfection and to beautify your interior space along with storing your footwear collection.
1. Big Shoes Rack A wardrobe style shoe rack is ideal for larger families; the extra storage can be handy if you have children. Also, if you expect too many guests for sleep-over.
2. Shoes Rack in Mudroom Not so happy with all the footwear displayed at the entrance? Then relax store them in the mudroom. It could turn into a mini entryway closet for shoes, coats, and hats.
3. DIY Wood Shoes Rack There are plenty of DIY tutorials online that teach you to build your shoe rack from scratch. If you are adept at carpentry, then a wooden shoe rack built from leftover or waste wood will look a smashing piece of artwork.
4. White Shoes Box Rack A clean way of storing all your footwear at the entrance. Makes for a great showpiece too.
5. Grey Shoes Rack A farmhouse style storing unit for shoes looks stylish with a Scandinavian interior design. If you possess an edgy corner for storing paint, it gray for a sensational result.
6. DIY PVC Pipe Shoes Cabinet Construction materials can be turned into design marvels, just take leftover PVC pipe units to create a masterpiece of storage for shoes. There are plenty of DIY pages to refer online for this imaginative project.
7. Big Shoes Rack in Closet Room The closet room can have an additional dimension with a huge shoe display in the center. Many styles and fashion bloggers prefer to keep their precious shoe collections in a secure environment for minimal damage.
8. Another PVC Shoes Rack 9. DIY Pallet Shoes Rack Empty crates and barrels can be designed into creating sensational storing space for shoes. These look modern and out-of-the-box ideas for millennial homes.
10. Big PVC Shoes Storage 11. Big Green Shoes Rack Olive green gives a fresh feel to any interior or corner, a shoe rack painted in this subtle color can enhance the look of any room.
12. Big Green Shoes Rack Ideal for small spaces or bachelor pads this innovative shoe rack features all of your trendy footwear in style.
13. Under-Stairs Shoes Storage What better way to put away all your shoes under the stairs. Make use of all the space in between the stairs and under it to create a storage work of art.
14. Back-door Shoes Storage Plastic pockets that can hold all of your footwear can be placed neatly behind the door. This chic idea works for a working woman who has an envious collection of heels.
15. Hiden Shoes Storage Don't want to display all of your shoes? Then store them compactly under the bed on wooden slides. Best way to deal with unwanted shoes scattered all over.