This Is How You Can Get Rid Of Dark Knuckles And Toes Easily At Home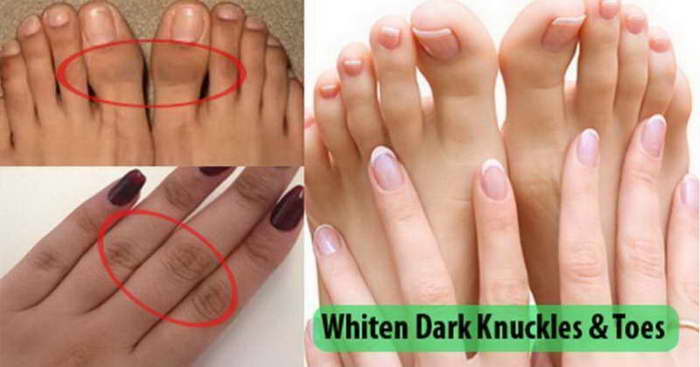 Taking care of our body is extremely important. While some parts are more important than others, we should take care of every part. Knuckles and toes are often considered to be unimportant, but they too need our attention from time to time.
Dark Knuckles and toes are a major problem for many people all over the world, and can be quite embarrassing as well in certain situations. Just imagine how you would feel if you had beautiful nails but dark knuckles. Toes also need our attention.
There are several treatments available at various parlors, which can help you get rid of this problem, but you will have to pay a lot of money for that. Instead, you could solve these problems at home only by using just homemade ingredients!
Take a look at these home remedies which are extremely effective at getting rid of dark knuckles and toes.
1 Scrub Scrubs are extremely useful in getting rid of dead skin cells which in turn should lighten up your dark knuckles and toes. Cleansing products like lemon can also come in handy.
2 Bleach You don't need to buy this from an outside store, you can make one at home from easily available ingredients. Take lemon juice and honey and mix them in a bowl in equal amounts. Apply the paste to the affected area, and you should see them lighten up within a few weeks.
3 Almond oil Almond oil is excellent for keeping your skin healthy. It provides nourishment to the skin and also helps in cleansing. Massage those areas with almond oil every day. You will be able to see results within 2 weeks.
4 Hand pampering This is considered to be one of the best whitening treatments. Mix glycerine, warm water, baking soda and rose water in a bowl and then keep your knuckles and toes in that solution for around 10 minutes. Rinse off with lukewarm water afterward.
5 Pumice stone Pumice stone is effective at removing dead skin cells. Hence it is often used in manicure and by professionals. You can rub the affected area using a pumice stone for a few minutes every day. You will realize the difference in a few days.
6 Milk cream Milk cream has proven to be quite effective in lightening dark knuckles and toes. Keep massaging the skin with the cream for about 10 minutes and then rinse it off with water. Continue doing this procedure every day, and your dark knuckles should start lightening within a few weeks.
7 Revitalizing lotion Apply this lotion properly on the dark knuckles and toes and rub it around for around 5 minutes, or till you find that the skin has absorbed the lotion.
8 Shea butter Shea butter is an excellent moisturizer, and it can also lighten dark spots. Apply it to the affected areas, and continue doing this procedure every day for a week. You should see results soon.
9 Rose water with baking soda Take baking soda and rose water and mix them in a bowl to make a homogenous solution. Dip the knuckles and toes in that solution for 5 minutes.
Now take half of a lemon and soak it in glycerine, and then use that lemon to rub the affected areas for around 5 minutes, before rinsing them with lukewarm water.
10 Egg white with gram flour Take one egg and mix it with 2 tbsp. of gram flour and one tsp of honey in a bowl. The mixture should be applied to the dark portions of your knuckles and toes daily. Keep it for around 15 -20 minutes before rinsing it off.
Another method is to dip pumice stone in water or milk and then use it to run in those areas for 5 minutes. Rinse it off with warm water later. You should start seeing results within a few weeks.
11 Check out the video below to know more.